Bespoke Spenky Headboard
Purchasing a bespoke designer headboard has never been easier! With a Spenky headboard you can customise your headboard dimensions, fabric and design so you can have the perfect headboard for your bedroom. All our headboards are made in New Zealand and designed for New Zealand beds.
You can order your Spenky headboard online using our secure credit card payment option, or you can contact us if you require personal service. Please feel free to contact us using our contact form.
Step 1- Choose your style of headboard
All our headboards are made to order so you can customise them to suit your bed.



Step 2 - Choose your fabric
All the prices displayed on our website include a standard fabric. You are not restricted by the fabrics displayed on our website. You can supply your own fabric or we can source it for you. Please contact us to confirm the amount of fabric required.
Delivery times are about 4 weeks and extended during holiday periods. Prices include free deliveryof headboards in NZ only.


Selecting fabrics
Click below and view our fabric range
Bolt Cargo Beachcomber Ardo Essence Fenno
Linen Nixon Mystere-velvet Vegas Faux Leather
Order fabric samples
You can now order fabric samples online so you can be sure that you are selecting the right fabric for your headboard. Click here
Otherwise you can visit Warwick fabric showrooms.
If you live in Auckland you can visit the Warwick showrooms in Parnell - 33 Bath St or Mairangi Bay - 12 Apollo Drive.
If you live in Christchurch you can visit the Warwick showroom in Mainland Design Centre - 323 Madras St.
If you live in Wellington you can visit the Wellington Design Library - 282 Thorndon Quay, Pipitea, Wellington 6011
Please note you are not restrcited by the fabrics displayed on our website for your headboard. Please contact us if you have any questions. Click here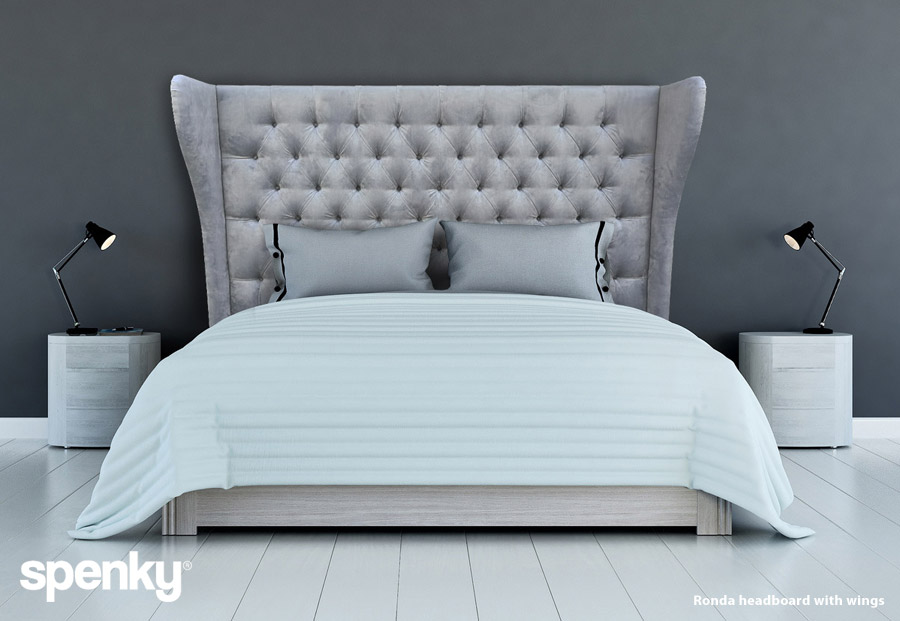 Why choose a bespoke Spenky headboard?
Not all beds and bedrooms are the same. That's why at Spenky headboards you can choose the perfect bespoke headboard for you and your bed.
Headboards have always been an after thought and have remained unchanged for years. Spenky Design took up the challenge and have completely redesigned the headboard on the principle that the bed mounted headboard should rest against the wall. This innovative approach stops the wobbling and banging headboard, and also eliminates stresses on the bed frame when leaning against it. The introduction of a foam bumper and redesign of the fixings means your walls are protected. To find out more about Spenky headboard innovations click here...

Matching headboard using the same fabric
Just bought a new bed? We can make you an upholstered headboard to match your new bed base. If your bed is made in NZ we can source the same fabric. Ask your bed retailer what the name of the fabric is, and let us know. Otherwise, contact us and we can help you.
Bed Wraps
Order a custom-made bed wrap to match your new headboard. Our patent pending system allows for a perfectly fitting wrap.
Click here to find out more...

Spenky Headboard Gallery