I don't feel confident about purchasing online?
We still enjoy providing good old fashion customer service. We have made thousands of headboards over the years and have sent them all over the country. Our headboards are well packaged and we have had very few issues over the years. Typically the freight companies provide customer insurance if the product is damaged or loss.
Please fill out the contact form and we can contact you, and discuss your concerns. If you prefer, we can process your order manually.
How do I measure my bed height?
Measure from the floor to the top edge of your mattress.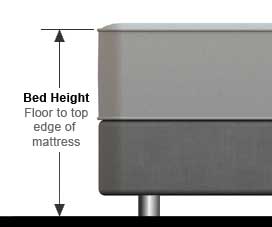 How do I know if it will fit my bed?
All our headboards are made to order so we can make them especially to fit your bed. The headboard bolt positions are standardised in New Zealand. If you have a bed from overseas or a custom bed please contact us.
My bed doesn't have any headboard bolts?
You can source the bolts from your local bed retailer. Otherwise we can sell you some headboard bolts. Click here You will need to work our whether your nuts inserts in your bed base have a metric thread(M8) or an imperial thread(5/16). Typically beds made in NZ will have a metris thread.
Will a King size headboard fit on a queen bed? I like a wider headboard.
The fixings for Double, Queen, King, Super King and California kings are a standard width, so you can order a larger headboard for your bed.
I have lights above my bed, can my headboard be made lower?
Yes, when you order you can select the height of your headboard.
How do I select a fabric?
The best method is to go to a furniture store and find a fabric that you like. Most furniture and curtain stores have fabric waterfalls(samples) that you can select from. Click here to find out more...
If you live in Auckland you can visit the Warwick showrooms:
12 Apollo Drive, Mairangi Bay or 33 Bath Street, Parnell
If you live in Christchurch you can visit the Warwick showroom:
Mainland Design Centre, 192 St Asaph St
How long does it take?
It generally takes about 4 weeks depending on the availability of the fabric you have selected. We can confirm delivery times once a fabric has been selected.
How do I pay?
Payment can be done online using your credit card. For manual transactions you can pay by direct credit. We require payment before your headboard is dispatched.
Our bank account details are as follows
Spenky Design Ltd
Bank account no.: 01-0530-0100279-00
Do you have a showroom?
No, we do not have a showroom. All our headboards are made to order so we do not keep stock. We have minimized our overheads so any savings can be passed onto you.
Do you ship all over New Zealand?
Yes, we send headboards all over New Zealand. We have sent headboards to the bottom of the South Island and up above Auckland. Headboards will be shipped either by Fastway couriers or PBT Transport. You will be notified when the headboard has been dispatched along with a consigment number.
If you have any other questions please do not hesitate to contact us.
---
The Delivery Process
Upon confirming an order with Spenky Headboards, your headboard should arrive in 3-4 weeks. Expect longer delivery times over holiday periods. We will contact you by email when your headboard is dispatched so you can expect delivery. If there are any delays with manufacturing we will contact you. If the delivery time does not suit please inform Spenky Headboards so we can make alternative arrangements.
Spenky Headboards uses PBT Transport and couriers and PBT couriers for all our nationwide deliveries. We can deliver to any town in New Zealand.
Delivery is normally 1-2 working days North Island and 2-3 days South Island.
For larger headboards the driver will contact you (on the contact number agreed upon) prior to delivery to confirm this. We recommend you contact the delivery company prior to delivery if you have any concerns.
VERY IMPORTANT: When you receive the headboard, please check it all to ensure that the packaging is not damaged in any way before signing the delivery receipt. It is important you do this while the carrier is still present if possible. If the item is damaged inform the driver and record this on the delivery receipt or electronic signature receipt. The freight company is not liable for damage if you sign for the goods with out noting the damage.
At Spenky Headboards we are customer focussed and want you to be totally satisfied, so if you have any concerns, then please feel free to email us.